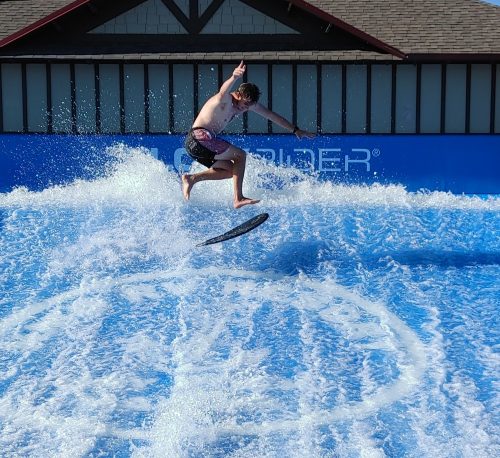 We encourage you to take advantage of the viewing deck and picnic tables and enjoy watching the Flowrider
Flowrider is included in camping nightly rates.
Monthly campers (sites for 30 days or more) and boaters are welcome to use Flowrider for a $45 daily fee per person. 
Admission bracelets will be monitored and checked. 
Flowrider times and types of riding will change throughout the day. 
All riders must present a government photo identification in order to ride
You must be over 42" to bodyboard on the FlowRider
You must be over 48" to ride standup on the FlowRider and under 250 pounds
All riders must sign a waiver. 
Riders under 18 years of age must have a parent or legal guardian with valid photo identification present to sign a waiver
You must be able to swim in fast-moving, turbulent water
Use at your own risk!
Do not participate if you have had any recent surgery or illness
Do not participate if you have a heart condition or neck, back and bone ailments
Do not participate if you suffer from high blood pressure or aneurysms
Do not participate if you are under the influence of alcohol or drugs
NMB RV Resort and Dry Dock Marina has the right to refuse service to anyone
You must complete all sections. The form will indicate you are done.